Makom: Creative Downtown Judaism is a grassroots Toronto community fusing Jewish tradition and progressive values since 2009.
Through joyous spirituality, stimulating learning, and arts and culture programming, Makom creates inclusive space that inspires participants – diverse in religious affiliation, age, sexual orientation, and gender identity – to explore together how Judaism can meaningfully enrich our lives.
Makom's programming includes soulful and song-filled Friday night and holiday services, Jewish meditation, adult education classes, family activities, and arts and culture experiences. Makom Afterschool is an innovative, pluralistic, Hebrew-immersion and Jewish studies program for children in JK through Grade 4, now offered in three downtown neighbourhoods. Makom ATID is our innovative approach to serious Jewish and Hebrew learning and preparation for Bar/Bat Mitzvah for students in grades 5-8.
Please consider giving back to Makom by making a donation or becoming a Makom Member today!
We can't provide meaningful Jewish experiences without your support. Please give generously so we can keep enriching your life with spirituality, learning and culture.
---
Rabbi Aaron's Rosh Hashanah Divrei Torah (Sermons)
Click for Rabbi Aaron's teachings on Rosh Hashanah (and parashat Vayera):
Disturbing Stories, Flawed Humans & #MeToo
---
neySHEV 

Friday

 Morning Meditation
This is a beautiful way to begin the day. Come sit in a circle of community in stillness and in song.
You are not required to have previous experience in meditation to join this session. If you are completely new to practice, please consider joining the Sunday, four-class series in November for introductory instruction.
Friday mornings, 7:45-8:45am
October 26
November 2, 9, 23, 30
December 7, 14
PWYC – Suggested donation $15-$30
Please email if you are attending neySHEV so that we know to expect you: chernick.aviva@gmail.com
---
TORAH STUDY by the Lake: The Book of JOSHUA
4 Tuesdays, Oct 9-30
11am-1pm
@ 65 Harbour Sq (Queen's Quay W & York St)
$100 for the series
Registration Required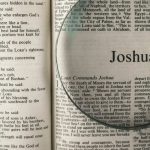 What comes after the Torah? Over only four sessions, we'll overview and discuss the Book of Joshua from a great variety of perspectives: ancient and modern, traditional and academic, literary and historical, etc.
No prior Jewish study or Hebrew knowledge required. Contact Rabbi Aaron for more info and to register.
---
Friday Night SERVICES + DINNER
Friday, Oct 26
6:00pm – Doors Open; 6:15pm – Services Start
@ Makom
$20 for Adult Dinner Ticket; $12 for kids 1-10 (25% off for Makom Members)
Registration Required for dinner by Tues, Oct 23
Celebrate Shabbat with spirit! Wind down from the week and welcome Shabbat with soulful, song-filled services, in which everyone can participate. After services, we'll enjoy a delicious, catered vegan Shabbat dinner together. Very limited space; register now.
---
FENTSTER presents: Every Thread that Binds You
May 28 – Oct 2018
@ Makom – 402 College St
Inverting the renowned Jewish exorcism story of The Dybbuk, painted and sculpted figures stitch protective layers onto their own skin.
Multidisciplinary artist Jess Riva Cooper has a long-held interest in mystical characters of Jewish folklore. The notion of the evil spirit of the Dybbuk which enters a living person intertwines with Cooper's ongoing exploration of parasitic, invading plant life. Noted writer and ethnographer S. An-ski (1863–1920) popularized the lore of the malevolent spirit in the renowned early 20th century Yiddish play: Der dibek: Tsvishn tsvey veltn ("The Dybbuk: Between Two Worlds"). The story centres on Leah – possessed on her wedding day by the tortured, wronged soul of her true beloved, Khonen, who died suddenly upon learning of her impending matrimony to another.
In this exhibition, the artist interprets the famed fantastical tale through a woman's view, considering how Leah does not possess control over her destiny within a devout, patriarchal world order. The exhibition title is extracted from a climactic moment in the script; the Rabbi commands the Dybbuk to sever "every thread that binds you to the living world and to the body and soul of the maiden." The world An-ski describes demands separation; cutting from the unknown. ​Integrating large-scale drawings and ceramic sculptures, Cooper takes up the metaphor of connective threads in a generative way. She transforms women's idealized domestic work of sewing and mending into an otherworldly gesture equal to An-ski's drama. Sewers stitch protective garments onto their clothing and even their own skin, attaching to themselves benevolent shadow-beings that only appear foreboding. Here the act of creation is one of salvation, returning power to the hands of women.
Presented together with the Ashkenaz Festival