Makom: Creative Downtown Judaism is a grassroots Toronto community fusing Jewish tradition and progressive values since 2009.
Through joyous spirituality, stimulating learning, and arts and culture programming, Makom creates inclusive space that inspires participants – diverse in religious affiliation, age, sexual orientation, and gender identity – to explore together how Judaism can meaningfully enrich our lives.
Makom's programming includes soulful and song-filled Friday night and holiday services, Jewish meditation, adult education classes, family activities, and arts and culture experiences. Makom Afterschool is an innovative, pluralistic, Hebrew-immersion and Jewish studies program for children in JK through Grade 4, now offered in three downtown neighbourhoods. Makom ATID is our innovative approach to serious Jewish and Hebrew learning and preparation for Bar/Bat Mitzvah for students in grades 5-8.
Please consider giving back to Makom by making a donation or becoming a Makom Member today!
We can't provide meaningful Jewish experiences without your support. Please give generously so we can keep enriching your life with spirituality, learning and culture.
JOIN US at MAKOM for these UPCOMING EVENTS:
---
Makom is Hiring: DIRECTOR OF EDUCATION AND FAMILY PROGRAMMING
Full job description: Makom Dir of Ed Family Programming Job Description 04-2018 v2
---
SHABBAT SERVICES + DINNER
Celebrate Shabbat with spirit! Wind down from the week and welcome Shabbat with soulful, song-filled services, in which everyone can participate.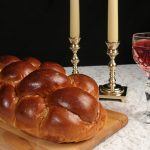 After services, we'll enjoy a delicious, catered vegan Shabbat dinner together. There is limited space; register now.
$15 for Dinner (only $10 for Makom Members)
Upcoming dates
August 24, 2018

Makom is a proud participant in the 

Synagogue Vegan Challenge

, in which the 

Shamayim V'Aretz Institute

 for Animal Welfare and 

VegFund

 are subsidizing our all-vegan food for 5778.

Makom is a diverse and inclusive community that welcomes participants who espouse many different approaches to Judaism, from secular to traditionally observant. In order to join together as one community without regard to denominational labels, our services blend traditional and progressive practices. Both women and men lead different parts of services. We offer men's, women's, and mixed-seating sections. We need an egalitarian minyan of 10 Jews in the room + a non-overlapping traditional minyan of 10 men in the men's section to start the maariv service, so we encourage you to come on time.
---
NEYSHEV: Meditation in Silence + Song
Fridays, Apr 20 & 27
7:45-8:45am 
@ Makom – 402 College St
PWYC | $10-20/session
RSVP required
Neyshev. Let's sit. Chanting, meditation instruction and sitting. Everyone is welcome. No previous experience necessary.
Led by meditation teacher, musician and prayer leader Aviva Chernick.
Please arrive before 7:45 to set up. There are chairs for sitting in. Please feel free to bring a cushion for the floor and a blanket to wrap up in for warmth and comfort. Registration required; please email Aviva.
---
SHABBAT MORNING Learners' Service
This Saturday, Apr 21
10am-12pm
@ Makom – 402 College St
FREE | RSVPs Appreciated
Want to know how to navigate and find meaning in a traditional Shabbat morning service? Join us for this abridged, explained service for pre-teens (grade 5 and up) with their parents, teens, and adults.
Co-led by Rabbi Aaron and Rabbi Emma, we'll learn the service structure, sing key prayers, discuss the Torah portion, and enjoy a light kiddush (snacks). [This service will be mixed seating and egalitarian.]
---
PJ PLUS: Bringing Jewish Books to Life
Sundays, Apr 22 – May 20, 10 – 11:15am
Makom: Creative Downtown Judaism – 402 College St. 
$75/5 weeks
For details and to register: HERE
PJ Plus is a parent/grandparent & tot (2&3 yr olds) weekly class, based on PJ Library books.
This Spring session come and experience: Celebrating Israel and Yom Haatzmaut, Shavuot Shakes, Mother's Day Magic and much more through hands-on Jewish learning, crafts, music & movin' based on PJ Library books. Have fun and connect with other young Jewish families downtown!
Questions? Contact Adina Lipson at alipson@ujafed.org or  416-621-5675.
---
Makom AFTERSCHOOL Early Bird REGISTRATION
Registration for Afterschool 2018/2019
Early Bird Discount (15% off tuition deposit)
Sunday Apr 15 – 30
About Makom Afterschool: For grades JK – 4. Through play-based, experiential education, our students are immersed in a Hebrew-speaking environment centered around Jewish values. On the two core-curriculum afternoons each week, students focus on Hebrew speaking and literacy through games, stories, songs, and Jewish holiday. Additionally, students can attend our optional Jewish Enrichment day, where they learn about Jewish holidays, Torah stories, Jewish values, and traditions. Two further optional afternoons teach Hebrew through activities structured around the arts (music, drama, visual art) and movement (yoga, games, sports).
For more information, please contact Rabbi Emma and/or visit: www.makomfamilies.org
---
Spadina: Then & Now, Photos & Film
Tuesday, Apr 24
7:30pm 
@ Makom – 402 College St
FREE | RSVPs Appreciated
Join us for an evening celebrating the historic and present-day Kensington Market and Spadina Avenue through photography and film. View architectural photographer David Kaufman's new portfolio on display at Makom​ of the contemporary urban landscape of Chinatown and ​Kensington Market. Watch the classic documentary Spadina (1984) by David Troster, incorporating interviews with community members as well as archival footage and images of one of Toronto's first Jewish neighbourhoods. The screening will be preceded by remarks from Kaufman about his document​ation of​ the evolution of Spadina and the Market.
​ ​
The area's history is equally honoured in the current FENTSTER exhibition in Makom's storefront window.  A Place for Wholesome Amusement by Chinese-Canadian artist Shellie Zhang illuminates​ how Toronto's Jewish and Chinese communities fostered their cultures in the same theatre at Spadina and Dundas.
​Screening followed by light refreshments.
​
Presented by Makom: Creative Downtown Judaism, Toronto Jewish Film Festival and FENTSTER
[IMAGE: David Kaufman, Flash Back Used Clothing, 2015]
---
And I am a Stranger: Becoming Ruth with special guest Dr. Avivah Zornberg
Sunday, Apr 29
7:00 – 8:30 PM
@ MNJCC – 750 Spadina Ave 
Advance Tickets – $10, Door – $15
Tickets Here
Dr. Zornberg is the author of five books, some of which will be available for purchase at the event: Moses: A Human Life, The Murmuring Deep: Reflections on the Biblical Unconscious, The Beginning of Desire: Reflections on Genesis, The Particulars of Rapture: Reflections on Exodus, and Bewilderments: Reflections on the Book of Numbers.
Co-sponsored by Anne Tanenbaum Centre for Jewish Studies at the University of Toronto, City Shul, Congregation Shir Libeynu, Danforth Jewish Circle, First Narayever Congregation, Kiever Synagogue, Makom: Creative Downtown Judaism, and Miles Nadal JCC.
Partners: Annex Shul
---
FENTSTER presents: A Place of Wholesome Amusement
February 26 – May 22, 2018
@ Makom – 402 College St
In a striking new neon light installation, Toronto-based and Beijing-born multidisciplinary artist Shellie Zhang reimagines marquee signage to represent two significant cultural institutions established by Chinese and Jewish newcomers to Toronto in the same building at the corner of Dundas and Spadina. First known as the Standard Theatre, the venue opened as a Yiddish theatre in 1922 and five decades later hosted Chinese cinema as the Golden Harvest Theatre. The artist considers how one building served as a locus for cultural expression and cohesion for two different communities. Accompanied by a detailed overview of the building's colourful history and reproductions of archival materials, the exhibition surfaces immigrant narratives embedded in the architecture of the Kensington Market-Chinatown neighbourhood, revealing little-known points of connection and breaking down siloed conversations about our city's past.


Presented by FENTSTER and the Ontario Jewish Archives, Blankenstein Family Heritage Centre as part of the 2018 Myseum Intersections city-wide festival
Curated by Donna Bernardo-Ceriz, Dara Solomon and Evelyn Tauben