Makom: Creative Downtown Judaism is a grassroots Toronto community fusing Jewish tradition and progressive values since 2009.
Through joyous spirituality, stimulating learning, and arts and culture programming, Makom creates inclusive space that inspires participants – diverse in religious affiliation, age, sexual orientation, and gender identity – to explore together how Judaism can meaningfully enrich our lives.
Makom's programming includes soulful and song-filled Friday night and holiday services, Jewish meditation, adult education classes, family activities, and arts and culture experiences. Makom Afterschool is an innovative, pluralistic, Hebrew-immersion and Jewish studies program for children in JK through Grade 4, now offered in three downtown neighbourhoods.
If you'd like to receive Makom's weekly newsletter listing upcoming events, please subscribe at the bottom of this page.
Most Makom programs take place at our storefront: 402 College St.
We'd love to welcome you to Makom!
---
Bar/Bat-Mitzvah Interest Meeting for Parents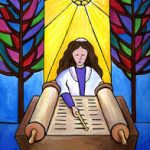 Parents of children currently in grades 4-7 are invited to meet with Rabbi Aaron and Rabbi Emma to discuss the formation of a Makom bar/bat-mitzvah program beginning in Sept 2017. We'll hear your ideas and interests and present our initial vision for multi-year programs of Jewish learning and experiences working toward individualized bar/bat-mitzvah ceremonies.
Tuesday, Jan 17 • 8-9pm @ Makom
Please RSVP to Anya. Questions? Contact Rabbi Aaron.
---
NEYSHEV: Meditation w/ Aviva Chernick
Neyshev. Let's sit. Chanting, meditation instruction and sitting. Everyone is welcome. No previous experience necessary. Led by meditation teacher, musician and prayer leader Aviva Chernick.
Please arrive before 7:45 to set up. There are chairs for sitting. Feel free to bring a cushion for the floor.
Fridays, Jan 13, 27; Feb 3, 10, 24 • 7:45-8:45am @ Makom
Pay What You Can • RSVP required
---
8th Anniversary FRIDAY NIGHT Services + Hot Stew
Friday, Jan 20
6pm – Doors open
6:15 – Services start
@ Makom – 402 College St


Celebrate Shabbat and Makom's 8th anniversary! Wind down from the week and welcome Shabbat with soulful, song-filled services, in which everyone can participate.
After services, warm up with some wine, hallah, and hearty stew, provided by Makom. Bring a certified kosher food or drink to share for appetizer or dessert. Please make a donation to help contribute toward food costs or in honour of 8 years of our grassroots, downtown community!
Future Friday night services: Feb 3, 17; March 3, 17, 31; April 7, 21; May 5, 19; June 9, 23
Makom is a diverse and inclusive community that welcomes participants who espouse many different approaches to Judaism, from secular to traditionally observant. In order to join together as one community without regard to denominational labels, our services blend traditional and progressive practices. We need a minyan of 10 women + 10 men to start the ma`ariv service, so we encourage you to come on time. Both women and men lead services and there is a low partition between women's and men's seating. Upon advance request, we'll gladly set up a section for gender non-conforming individuals. Children are welcome in all sections.
---
Spice it Up! Makom Families Havdalah
Join us for a family-oriented havdalah experience! Learn about the symbols of havdalah with Rabbi Aaron Levy and Rabbi Emma Gottlieb, our new Director of Education and Family Programming. A great opportunity for parents and children to spend time together, engage in separate children's and adults' learning, and a chance for those who haven't yet met Rabbi Emma to do so!
FREE • Saturday, Jan 21 • 6:30-7:30pm @ Makom                      Please RSVP to Anya. Questions? Contact Rabbi Emma.
---
 PJ Plus Parent + Tot Program
You and your child will enjoy Jewish content through hands on fun including storytelling, music, and moovin', arts and crafts, puppets and schmoozing. PJ Plus is a curriculum-based program, using PJ Library books as a springboard to develop engaging and inspiring sessions to enhance the educational development of young children. No class Feb 19 (Family Day).
For 1.5 – 3 year olds + Parent or Grandparent
Sundays, Jan 22 – Mar 5 • 9:30-10:45am @ Makom
$90 for 6 sessions • Register by Jan 12 • Questions? Contact Adina or call 416-621-5675.
---
Makom Afterschool is a five-day-a-week afterschool program for children in JK through grade 4, and growing. Children learn to read, write, and speak Hebrew and learn Jewish studies in a fun, play-based, innovative, Hebrew immersion classroom. Makom Afterschool currently has three locations:  Kensington Market (College & Spadina), Hillcrest Village (Bathurst & St. Clair) and Seaton Village (Bloor & Bathurst). REGISTRATION IS NOW OPEN FOR 2016-2017!