Makom is organized by Rabbi Aaron Levy and a five-member Leadership Team (Board of Directors), working collaboratively to plan and run programs, and engaging in a strategic planning process to make Makom a sustainable community and organization.
A number of other community members are involved in guiding our planning process and initiating creative programs. If you are interested in contributing to these processes, please let us know. We'd love to hear your ideas, concerns, and thoughts on Makom.
Staff
Rabbi Aaron Levy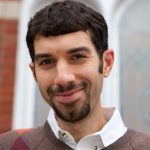 Rabbi Aaron Levy is a leader in the revival of downtown Jewish life in Toronto, where he is the founding rabbi and executive director of Makom.
Rabbi Aaron fuses Jewish tradition and progressive values in his teaching and life. As the descendant of both Sephardic (Judeo-Spanish, by way of the Island of Rhodes) and Ashkenazic (Polish & Russian) immigrants to Turtle Island (North America), he personally embodies Jewish multiculturalism. He warmly welcomes diverse Jews and non-Jews to explore their own paths in Jewish life and community.
Rabbi Aaron highlights Judaism's joy through musical, participatory prayer and teaches in an open-minded and intellectually engaging style. An avid drummer, hiker, cyclist, and vegan, he lives near the old Jewish neighbourhood of Kensington Market with his family.
Rabbi Aaron brings experience living and working in a variety of cities and Jewish communities; he previously served as Madrikh Ruhani/Spiritual Leader of Associated Hebrew Schools, was the founding rabbi of Annex Shul, served as campus rabbi at three Hillels, and led wilderness backpacking trips. He currently sits on the Downtown Jewish Community Council, Toronto Board of Rabbis, and the Rabbinic Advisory Board of Eshel, promoting LGBTQ inclusion in Orthodox and traditional Jewish communities.
Originally from Rockville, Maryland, he received BAs from Columbia University and the Jewish Theological Seminary and was ordained in 2004 in the first graduating class of Yeshivat Chovevei Torah – The Open Orthodox Rabbinical School in New York City.
Rabbi Aaron is available for spiritual guidance, halakhic advice, and pastoral counseling for Makom members. He also facilitates personally meaningful lifecycle events: baby namings, benei mitzvah (bar and bat mitzvahs), weddings, funerals, and gravestone unveilings.
Rabbi Aaron would love to hear from you. Email him at aaron@makomTO.org
Adina Gamse
Managing Director
Adina Gamse moved to Toronto in 2016 upon completing her PhD in Mathematics, and joined the Makom community shortly thereafter. She is excited to be joining the leadership team.
Sorel Goldberg Loeb
Director of Education
Sorel Goldberg Loeb was the Director of Education at Westchester Reform Temple in Scarsdale New York for over twenty years before returning to Toronto (where she grew up) in 2016. In that capacity she worked with children, families and teachers of all ages and stages. Sorel is passionate about teaching Hebrew and supporting teachers in their work. She is the author of the teacher resource book "Teaching Torah – A Treasury of Insights and Activities". Sorel is excited to be joining the Makom community.
Board of Directors
Ari Kaplan, President
Ari Kaplan is a lawyer and mediator focused on dispute resolution. Ari is a native Torontonian and lives in Harbord Village with his wife and their blended family of teenagers. Ari believes deeply in Makom's values and working with the community to renew Jewish life downtown.
Barry Gang, Treasurer
Alan Sless, Secretary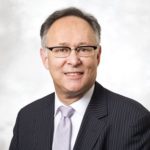 Alan Sless is a partner in the Toronto office of Borden Ladner Gervais LLP. Alan practises commercial real estate law, and has extensive experience in acquisitions, dispositions, leasing, development, joint ventures, co-ownerships and financing involving real estate, including condominium projects, shopping centres, office and industrial complexes. Alan is a member of the Firm's Bank of Nova Scotia Client Team, HSBC Bank Canada National Client Team and Commercial Lending Practice Group.
Lily Ohana-Sone, Afterschool Liaison
Tae Hart, Caring Committee Chairperson
Tae Hart is faculty at Ryerson University and Mount Sinai Hospital. Tae has been a member of Makom since 2019, and is happy to contribute to this vibrant and meaningful community. At Makom, Tae is committed to the expansion of the community with an emphasis on health and healing.