Makom is organized by Rabbi Aaron Levy and a nine-member Leadership Team (Board of Directors), working collaboratively to plan and run programs, and engaging in a strategic planning process to make Makom a sustainable community and organization.
A number of other community members are involved in guiding our planning process and initiating creative programs. If you are interested in contributing to these processes, please let us know. We'd love to hear your ideas, concerns, and thoughts on Makom.
Staff
Rabbi Aaron Levy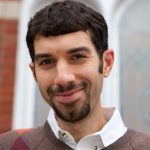 Rabbi Aaron Levy is a leader in the revival of downtown Jewish life in Toronto, where he is the founding rabbi and executive director of Makom.
Rabbi Aaron fuses Jewish tradition and progressive values in his teaching and life. As the descendant of both Sephardic (Judeo-Spanish, by way of the Island of Rhodes) and Ashkenazic (Polish & Russian) immigrants to Turtle Island (North America), he personally embodies Jewish multiculturalism. He warmly welcomes diverse Jews and non-Jews to explore their own paths in Jewish life and community.
Rabbi Aaron highlights Judaism's joy through musical, participatory prayer and teaches in an open-minded and intellectually engaging style. An avid drummer, hiker, cyclist, and vegan, he lives near the old Jewish neighbourhood of Kensington Market with his family.
Rabbi Aaron brings experience living and working in a variety of cities and Jewish communities; he previously served as Madrikh Ruhani/Spiritual Leader of Associated Hebrew Schools, was the founding rabbi of Annex Shul, served as campus rabbi at three Hillels, and led wilderness backpacking trips. He currently sits on the Downtown Jewish Community Council, Toronto Board of Rabbis, and the Rabbinic Advisory Board of Eshel, promoting LGBTQ inclusion in Orthodox and traditional Jewish communities.
Originally from Rockville, Maryland, he received BAs from Columbia University and the Jewish Theological Seminary and was ordained in 2004 in the first graduating class of Yeshivat Chovevei Torah – The Open Orthodox Rabbinical School in New York City.
Rabbi Aaron is available for spiritual guidance, halakhic advice, and pastoral counseling for Makom members. He also facilitates personally meaningful lifecycle events: baby namings, benei mitzvah (bar and bat mitzvahs), weddings, funerals, and gravestone unveilings.
Rabbi Aaron would love to hear from you. Email him at aaron@makomTO.org
Adina Gamse
Managing Director
Adina Gamse has been involved in Makom since 2016, when she moved to Toronto for a postdoctoral fellowship at U of T. She was elected to Makom's Board of Directors in 2017 and transitioned to full-time staff in 2020, right as the pandemic hit. She is still looking forward to meeting everyone in person!
Adina has a PhD in Mathematics and loves introducing non-mathematicians to the joys of her subject; she combines this with her love of Jewish learning in her Limmud sessions on Mathematics and Mishna. In her free time she enjoys trampolining and flying trapeze.
Ariel Zaltzman
Director of Youth Education and Programming
Ariel Zaltzman was born in Israel and moved to North America more than 20 years ago with his family. He has since been working in different Jewish communities in the States and in Canada, including a variety of denominations. Ariel previously served as the Principal of Kehila Jewish Community in Hamilton, and of Kachol Lavan and Darchei Noam in Toronto.
Ariel is very excited to be part of Makom, where he's found a warm and welcoming, pluralistic and inclusive community.
Ariel is looking forward to working with all children and families and helping Makom to grow and develop.
---
Board of Directors
Alan Sless, Secretary
Alan Sless is a partner in the Toronto office of Borden Ladner Gervais LLP. Alan practises commercial real estate law, and has extensive experience in acquisitions, dispositions, leasing, development, joint ventures, co-ownerships and financing involving real estate, including condominium projects, shopping centres, office and industrial complexes. Alan is a member of the Firm's Bank of Nova Scotia Client Team, HSBC Bank Canada National Client Team and Commercial Lending Practice Group.
Daphna Jackson
Daphne (Daphna) Jackson has been a Makom member since 2018 and has contributed to the community as a leyner (reader) of haftarah and megillah. She is a pediatric physiotherapist, accessibility and disability justice advocate, and cyclist. Daphna lives in the Annex, a few blocks away from her bubby's childhood home, and is grateful to be part of a vibrant Jewish community with close ties to her family history.
Ilana Newman
Ilana is an academic reference librarian and has worked mostly in the humanities, social sciences, and law. Her personal interests include Balkan, Georgian, and Corsican choral music, and the social history of Jewish communities throughout the diaspora. Originally from the US, she currently lives in East York with her husband. Ilana has been involved with Makom since 2010, and is excited to serve the community as a member of the board.
Josh Patlik
Josh Patlik is a lawyer. He has been a member of Makom since 2017, and is excited to serve the Makom community as a board member.
Lea Zeltserman, Afterschool Liaison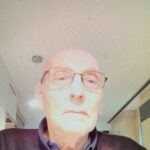 Reuben Klein
Reuben Klein was born in Israel, raised in Montreal and has lived in Toronto for the past fifty years. During that time, Reuben has been an entrepreneur successfully starting and leading a number of companies focused on electronics and technology. As a longtime resident of downtown Toronto, Reuben is committed to helping build a strong Jewish presence in the area and is aligned with Makom's mission and values. Makom's emphasis on diversity, through its embracing and welcoming of all Jews regardless of how they identify and who might otherwise not have an opportunity to have a meaningful Jewish life is important to Reuben as he believes that only by inclusion and acceptance will we encourage and nurture a strong Jewish presence in downtown Toronto.
Tae Hart
Tae Hart is faculty at X University and Mount Sinai Hospital. Tae has been a member of Makom since 2019, and is happy to contribute to this vibrant and meaningful community. At Makom, Tae is committed to the expansion of the community with an emphasis on racial justice and community healing.