Answered Prayers (Toronto Star, September 5, 2021)
Rabbi Aaron Levy started Makom to merge progressive and traditional values. But, he tells Ethan Rotberg, holding services hasn't been easy
---
"We set up our synagogue in the park wading pool": This rabbi held in-person services for the first time in nine months (Toronto Life, August 4, 2021)
Rabbi Aaron Levy discusses outdoor programming during the pandemic. Read the article here
---
Makom celebrates 10 years of serving downtown TO (Canadian Jewish News, May 17, 2019)
Rabbi Aaron Levy reflects on the history of Makom and discusses our tenth anniversary celebration. Read the article here
---
Everyone gets gooey at downtown matzah bake (Canadian Jewish News, April 3, 2018)
The CJN reported on Makom's annual matzah bake in Dufferin Grove Park. Read the article here
---
Makom addresses issue of gender inclusivity (Canadian Jewish News, August 22, 2017)
Makom was interviewed by the Canadian Jewish News about gender seating during services. Read the article here.
---
Passover installation in Makom's new space asks thought-provoking questions (Canadian Jewish News, April 29, 2016)
A few months after moving into our College Street storefront, the CJN interviewed curator and artist Evelyn Tauben about the first window installation, and Rabbi Aaron Levy about the benefits of having our own space. Read the article here
---
For the love of Kensington (Toronto Life, July 2, 2014)
Rabbi Levy was interviewed by Toronto Life Magazine about the connection between Makom and Kensington Market
Read the article here 
---
Shuls Must Remain Relevant, Says Rabbi (Canadian Jewish News, April 21, 2013)
Read the article here
Shul Disturber (The Grid, May 21, 2013)
Read the article here
---
Here and Now, March 7, 2012
Listen to Rabbi Aaron Levy talk about Purim on Here and Now:
Listen to the interview here
---
Here and Now, December 21, 2011
Rabbi Aaron was interviewed by Sarah Elton for CBC Radio Toronto's Here and Now for their December 21, 2011 program, discussing Kensington Market and Sephardic Chanukah traditions. Listen to the interview online here, along Aaron's grandmother's recipe for Burmuelos di Chanukah.
---
Here and Now, December 20, 2011
Makom was also mentioned in a Here and Now interview with community member Sarah Brodbar-Nemzer about Chanukah. Listen here.
---
Parent Central/Toronto Star, December 20, 2011
On December 20, 2011 Parent Central mentioned Makom's Downtown Jewish Playschool, our after-school program for children ages 3 to 7, in a story about community member and Playschool co-founder Sharry Aiken and her family.
Read the article here
---
Toronto Star, December 21, 2011
Two more of our community members were mentioned in a Toronto Star article titled "Judaism became more important after kids". Read it here.
---
The Jerusalem Report, October 10, 2011
As she strolls along College Street, at the northern edge of Kensington Market in downtown Toronto, Sarah Brodbar-Nemzer sometimes imagines that she is walking back in time.
---
Makom and Shoresh published
In 2010 Makom and Shoresh co-presented the Jewish Urban Homesteading Workshop Series. The July 2010 session, Jam Making and Canning 101, was attended by author Sarah B. Hood as research for her book We Sure Can! (Artisanal Pulp Press, 2011) The book has recently been published and a photo of that workshop appears on page 27 along with mention of the workshop series and an interview with Risa Alyson Cooper (nee Strauss), Director of Shoresh.
---
Canadian Jewish News, August 18, 2011
Labour Day: A Jewish Holiday
By Rabbi Aaron Levy
A recent front-page article in the National Post brought attention to the claim currently before the Ontario Labour Relations Board that the Kashruth Council of Canada hasn't been paying its mashgichim overtime, as mandated by provincial law. While COR disputes the charge, the case impels us to consider what Jewish law and values teach us about employer-employee relationships.
Full story (PDF)
---
Natan Annouces 2011 Grant Recipients
eJewish Philanthropy, February 6, 2011
Natan has announced the awarding of over $950,000 to 47 emerging nonprofit organizations and individuals around the world that are working to strengthen the Jewish people and the State of Israel.
---
FED with Corey Mintz
Rabbi Aaron Levy and wife Miriam Kramer were "FED" by The Toronto Star's Corey Mintz. Read Mintz's account on his blog (January 26, 2011) and in The Toronto Star (January 28, 2011).
---
Alternate Congregation
CBC Radio's Matt Galloway interviewed Rabbi Aaron on Metro Morning on December 10, 2011.  [Update: Audio recording no longer available.]
New grassroots movement wants to bring the Jewish community back to Kensington Market (Globe and Mail, Saturday December 4, 2010)
The congregation of 50 or so is young and energetic and their voices roll and rock through the storefront artist's studio, converted to a place of worship on Friday evenings.
…BlogTO's Morning Brew feature picked up the Globe and Mail article:
A grassroots group known as Makom is looking to bring back a Jewish presence in Kensington Market, an area that was formerly one of the community's mainstays prior to the post-war period when many people moved out of the downtown core.
---
Makom makes it to the top 50
Canadian Jewish News, Thursday November 18, 2010
Makom, a new non-profit organization that serves downtown Toronto's growing Jewish community, has been named one of North America's 50 most innovative Jewish non-profits by Slingshot '10-'11, a guidebook that helps funders identify up-and-coming organizations.
---
Startup congregation: Makom aims to enrich downtown Toronto Jewish life and culture
Yonge Street Media, November 17, 2010
The immigrants that settled in early 20th century Toronto eventually fled downtown for the suburbs in various directions. The Jews were the only group to take a linear route, straight up Bathurst, from Kensington Market.
---
Slingshot 10-11 (Resource guide for Jewish innovation)
Makom was the first Canadian organization to be named one of the 50 most innovative Jewish organizations by Slingshot. Download or order the guide here (click on "The Guide>overview").
Makom recognized as top 50 innovative non-profit
Jewish Tribune, Wednesday October 20, 2010
A Toronto organization was recognized this week as one of North America's 50 most innovative Jewish nonprofit organizations. Makom, founded in January 2009, was listed by Slingshot in its 2010-2011 edition, becoming the first Canadian organization to receive the honour in the publication's six-year history.
Freezing Jews in the Great White North
JewSchool, Wednesday, October 20, 2010
Yesterday, Slingshot announced this year's honourees. 50 "innovative" Jewish nonprofits are included in their annual guide.
---
Marching to his own beat
Friday Night, summer 2010 issue
The crowd at Kiever's Friday's Shabbat service looks like a microcosm of your typical downtown Toronto street. A young man with blond dreadlocks hands out prayer books, while the pews fill up with 20 and 30-somethings sporting jeans.
Full story (PDF)
---
"Ani le-dodi ve-dodi li"
By Aaron Levi, Uri Topolosky, Aviva Richman and James Greene
Sh'ma, June 2010
Ani le-dodi ve-dodi li: I am my beloved's and my beloved is mine
---
Grassroots downtown community celebrates first anniversary
Jewish Tribune, February 10, 2010
Full story
---
From intention to action
By Rabbi Aaron Levy
Canadian Jewish News, January 14, 2010
I recently returned from a conference for rabbis and rabbinical students organized by American Jewish World Service (www.ajws.org), an international, grassroots development organization dedicated to alleviating poverty, hunger and disease among people in the developing world.
Full story (PDF)
---
Toronto hosts think tank on social entrepreneurship
Canadian Jewish News, December 24, 2009
Full story
---
Limmud festival combines study with fun
Jewish Tribune, September 2009
TORONTO – Lois Lilienstein of Sharon, Lois and Bram fame is not only a great entertainer. She makes the most wonderful blintzes, as anyone who attended last week's Limmud program, where she demonstrated the art of creating the perfect crepe, would agree.
---
A Canadian Perspective on Gun Control
By Miriam Kramer & Rabbi Aaron Levy, Sh'ma, November 2009
In the three years since we moved from New York to Toronto, we've been asked countless times, in all seriousness: "Isn't it dangerous in the United States?" We laugh each time at the seeming absurdity, the way our Canadian colleagues relate to America with the same fear that Americans usually reserve for developing nations engaged in active civil war.
---
Memorial recalls Tel Aviv attack on gays, lesbians
Canadian Jewish News, September 9, 2009
The slight chill and heavy winds did little to deter the crowd that showed up to honour the memory of two recently murdered Israelis. Held on the rooftop of the Miles Nadal Jewish Community Centre, approximately 85 people attended the Aug. 25 vigil for Nir Katz and Liz Trubeshi, who were killed in the attack on a Tel Aviv centre for gays and lesbians on Aug. 1. At least a dozen others were injured by the masked gunman.
Local vigil held for those shot at LGBT centre in Tel Aviv
Jewish Tribune, September 2009
TORONTO – On a windy rooftop patio in the heart of downtown Toronto, a crowd gathered last week for a vigil.

They were remembering the victims of the Tel Aviv shooting, when a masked gunman stormed Aguda, a LGBT (Lesbian, Gay, Bisexual and Transgendered community) centre and sprayed bullets with a machine gun through the crowd during a support group session on Aug. 1, 2009.
---
Celebrating the Sun's Creation in Christie Pits
BlogTO, April 9, 2009
On Wednesday morning I awoke before dawn and gathered with about 100 others from Toronto's Jewish community at Christie Pits park to honour Birkat Hachamah, the blessing of the sun, marking the location of the sun being at the precise location it was placed on the fourth day of creation, according to ancient Hebrew texts.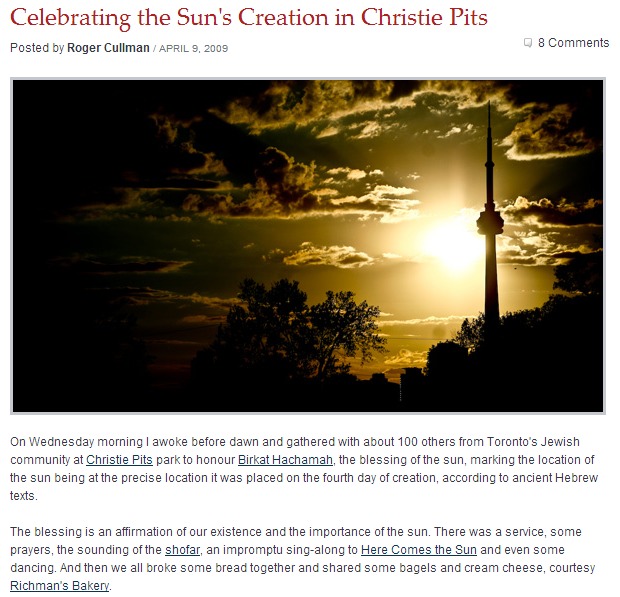 Blessing the sun, blessing life
Rabbi Aaron Levy, Canadian Jewish News, March 26, 2009
I'm not a morning person, but on April 8, I'll actually be excited to wake up before dawn. Yes, it's the morning before Passover begins, and I'll still have a long to-do list of cleaning and cooking to purge our home of chametz and prepare for the seders, but that's not why I'll rise with alacrity. Rather, it's the once-in-a-generation opportunity to say Birkat Hachamah – the blessing of the sun – that has me enthused.
---
Day to day happenings at the Prayer Vigil
Interfaith Social Assistance Reform Coalition, March 25, 2009
The day began with the Unitarian Universalists of Southern Ontario and other individuals gathering to share readings, reflection, and naming the MPPS on the day's prayer list.
---
Diversity and Destruction
Rabbi Aaron Levy, Canadian Jewish News, July 19, 2007
It is commonly known that Jews will commemorate the destruction of the Second Temple this coming Tuesday with the fast of Tisha b'Av.

What's less known is that the period prior to the destruction featured great variety in Jewish life: there were multiple, competing groups with widely diverging ideologies on the most fundamental matters in Jewish belief and practice, including Sadducees, Pharisees, and Essenes, among others. Of course, there were also plenty of ordinary Jews not affiliated with any sect.

Sound familiar?